North Korea missile: US says it will use military force 'if we must'
The US has said it will use its "considerable military forces" on North Korea "if we must", following Tuesday's long-range missile test.
US ambassador Nikki Haley said a new resolution will also be tabled against Pyongyang at the United Nations.
She described the test as a sharp military escalation and also threatened to use trade restrictions.
Hours after she spoke, the US and South Korea fired more missiles into the Sea of Japan as part of military drills.
But Pyongyang has said it would not negotiate unless the US ends its "hostile policy" against North Korea.
Tuesday's missile launch, the latest in a series of tests, was in defiance of a ban by the UN Security Council.
Meanwhile, US Defence Secretary Jim Mattis and his Japanese counterpart Tomomi Inada said the test was an "unacceptable provocation".
A statement released by the US defence department said the two spoke on the phone, where Gen Mattis said the US was committed to defend Japan and provide deterrence.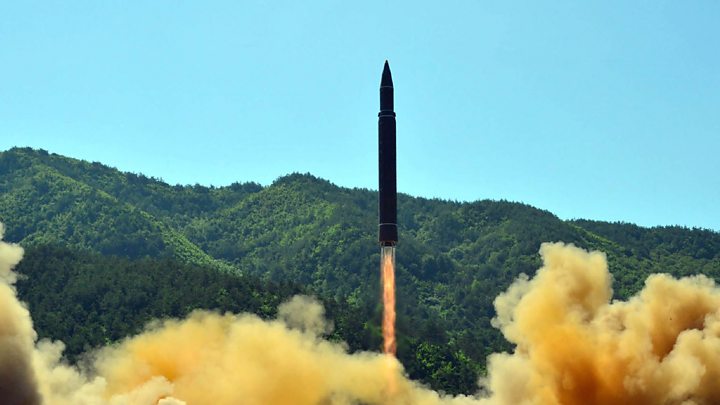 How has the US responded?
On Wednesday Ms Haley warned that North Korea's test launch of an intercontinental ballistic missile (ICBM) was "quickly closing off the possibility of a diplomatic solution".
"The United States is prepared to use the full range of our capabilities to defend ourselves, and our allies," she told the UN Security Council, which met for an emergency session to discuss the test.
"One of our capabilities lies with our considerable military forces. We will use them, if we must, but we prefer not to have to go in that direction," she said.
On Thursday in South Korea, the US held a joint military drill with the South's troops for a second day in response to the long-range missile test.
It involved various destroyers, warships and fighter jets launching guided missiles against a simulated maritime attack, reported Yonhap news agency.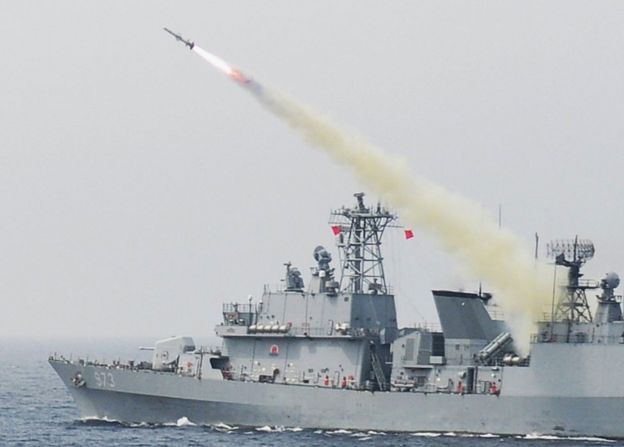 Ms Haley also said the US could cut off trade with countries which continued to trade with North Korea in violation of UN resolutions.
"We will look at any country that chooses to do business with this outlaw regime," she said.
Earlier, US President Donald Trump criticised China for its trade with North Korea.
Mr Trump has arrived in Warsaw where he is due to meet Chinese President Xi Jinping for the second time. He will later travel to Hamburg for the G20 summit, where world leaders are expected to discuss the missile test.
Why is Donald Trump going to Poland?
What have other countries said?
South Korea's President Moon Jae-in has voiced concern that the North's nuclear and missile development was "proceeding much faster than expected".
Speaking in Berlin on Wednesday, where he met with German leader Angela Merkel, he said they would "examine possibilities of ramping up sanctions".
At the UN Security Council meeting in New York, the French ambassador said they also favoured a new resolution on North Korea, which would tighten sanctions.
Russia, which condemned the test, said the possibility of using military measures "should be excluded".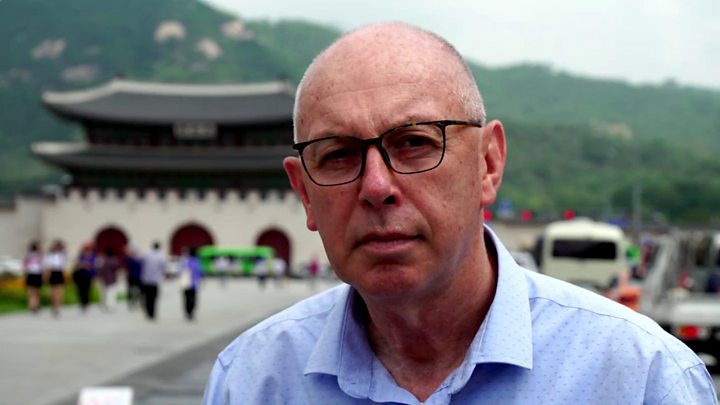 China's representative said North Korea's actions were unacceptable, but also repeated China and Russia's call for all involved to stand down.
They have proposed that North Korea should halt its missile and nuclear programmes, in exchange for freeze of the US and South Korea's military exercises in the region. They also propose reversing plans to deploy a controversial anti-missile system in the South.
Both Russia and China are permanent members of the UN Security Council and could veto any new resolution.
What has North Korea said?
On Wednesday, state news agency KCNA said the "US strategy of strength" combined with pressure and engagement "will never work".
Unless the US stopped its "hostile policy", North Korea "will never put the nuke and ballistic rocket on the negotiating table".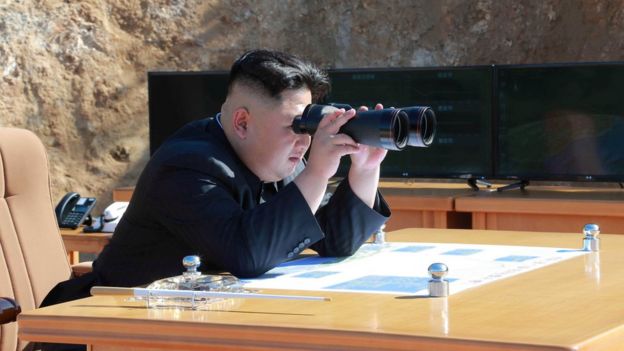 It had earlier quoted leader Kim Jong-un as saying that Tuesday's launch was a "gift" to the Americans on their independence day, and that he ordered officials to "frequently send big and small 'gift packages' to the Yankees".
Pyongyang said the Hwasong-14 ICBM had reached an altitude of 2,802km (1,731 miles) and flew 933km for 39 minutes before hitting a target in the sea.
North Korea, it said, was now "a full-fledged nuclear power that has been possessed of the most powerful inter-continental ballistic rocket capable of hitting any part of the world".
But while experts agree that the test shows Pyongyang has a long-range projectile, many are sceptical that its missiles can successfully deliver warheads.
Have North Korea's missile tests paid off?
---
What is an ICBM?
A long-range missile usually designed to carry a nuclear warhead
The minimum range is 5,500km (3,400 miles), although most fly about 10,000km or more
Pyongyang has previously displayed two types of ICBMs: the KN-08, with a range of 11,500km, and the KN-14, with a range of 10,000km, but before 4 July had not claimed to have flight tested an ICBM. It is not clear what differentiates the Hwasong-14